It's not easy to find a local handyman
But SydeWyrk makes it simple.
Handymen and handywomen can be hard to find. But with SydeWyrk, you can post your job and have rated and reviewed SydeWyrkers send you hire requests straight to your phone. Hire, Communicate, and Pay all in one easy to use app! Let us find your local handyman today!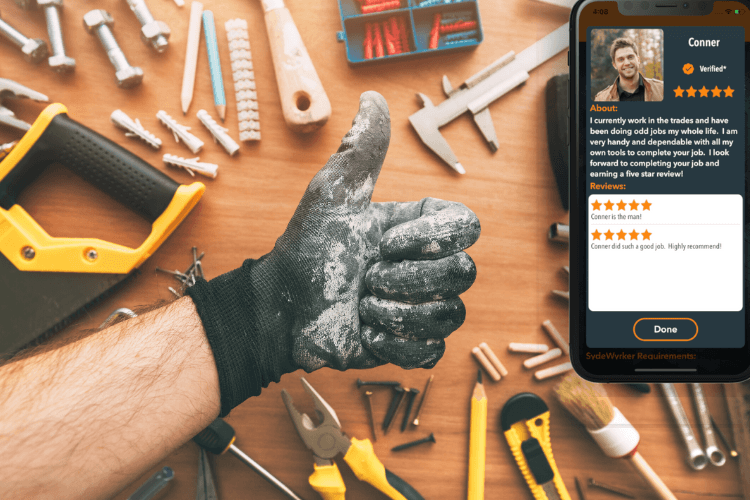 Just what exactly does a handyman do?
A handyman can be a man or a woman that excels at providing basic home maintenance and can help with home projects. You do not need any specific certifications or license to call yourself a handyman, instead most pride themselves off past projects where they had happy customers. Most handymen you will find on SydeWyrk will have reviews and we encourage you to hire your SydeWyrker based upon their reviews and about me. You can expect handymen and handywomen to perform a variety of tasks. From lawncare and landscaping, to painting and light carpentry, a handyman is right for the job. You typically want to provide the materials for the handyman and simply pay them for the services provided. It is best to talk with the person you hire to talk about your plans for anything required to complete the job.
What is the best way to find a local handyman?
It can be extremely challenging to find a good local handyman. Typically you would ask around, post on Facebook, or search Craigslist. This can take hours just to get a recommendation from your neighbors-brothers-sons-buddy who you have no idea if they are interested, have the time, or are reliable. Then you still have to work out payment in person. Finding a handyman on SydeWyrk is so much easier than any other traditional way. SydeWyrk is filled with local handymen and handywomen that are eager to pick up any task or project you have at your home.
How much does a handyman cost?
Prices for a handyman's services can vary greatly. Some factors that can determine a handyman's price is their experience, the type of job you need help with, and how busy they are with other jobs. It is hard to pin down a price when searching for help on your own. SydeWyrk makes it easy by naming your price or selecting a pre-priced job when you post to the platform. This will allow the handyman or handywoman to request hire if they are interested at the price you chose.
Does a handyman have a license?
Whether or not a handyman is licensed depends on each individual and if they have gone through the extra steps to be licensed in a field of services they provide. A handyman may not be licensed and still perform fantastic work for your smaller jobs. Some individuals that are a handyman will be licensed because of what their career is. When you hire help on SydeWyrk, it will be up to you to ask your provider if they are licensed if that is a concern to you.
Android App
iPhone App