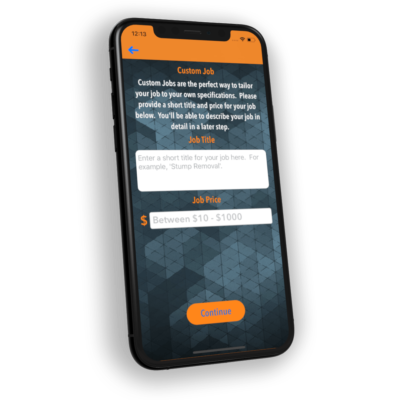 Posting a Job On SydeWyrk
Get comfortable with posting a job on the SydeWyrk App by following a few tips and tricks provided below.
CUSTOM OR PRE-BUILT JOBS
If you want to take full control over your job it is best to choose a custom job.  Be sure to get detailed pictures and leave a detailed description so potential customers know what they will be getting into.
PRICING YOUR JOB
Not sure what to price your job at?  Be sure to tell us in the App!  Price the job so it will still entice workers to come do the work.  If nobody picks up your job, you can always cancel it and post it with a higer price.
AFTER YOU POST
Your job is posted to the marketplace and will be available for hire to workers within 20 miles of your area.  If a worker is interested in your job, you will recieve a hire request from then and have a chance to check out their profile and hire them.
ONCE YOU HIRE A SYDEWYRKER
After you hire a worker for your job, you will be given a masked phone number to communicate with your worker. Shoot them a text or give them a call to work out the details for your job.